This Internet site ("IDSI Site") is exclusively owned and controlled by Imaging Diagnostic Systems, Inc. ("IDSI").
IDSI welcomes its customers, alliance partners, suppliers, investors, employees, the scientific community, as well as the general public. The Site is available to you for your information, interest and education and to provide a convenient means of communicating with IDSI.
The following terms and conditions, as may be amended from time to time in the sole discretion of IDSI ("Terms and Conditions"), apply to any and all access to the IDSI Site and your use of the site or its contents, and you unconditionally accept these Terms and Conditions without qualification, limitation or other restriction.
The IDSI Site is designed to provide a general overview about IDSI and its products to a wide variety of audiences. The information contained in the IDSI Site is not intended to provide medical advice or instruction on the appropriate use of IDSI's products, nor is such information intended to be used in making any decision relating to an investment in securities of the Company.
Patients are urged to consult with their treating physicians. Investors are urged to review and consider carefully the materials that IDSI files with the Securities and Exchange Commission, and all information contained in these pages is qualified in its entirety by references to such filings.
IDSI makes no representation or warranty as to the accuracy or completeness of the information posted on or referenced in the IDSI Site, including, without limitation, information prepared by third parties which is posted on the IDSI Site or in web sites that are linked to the IDSI Site. Access to and use of all information is at the user's own risk. IDSI shall not be liable for any damages of any kind, nature or description (whether direct, consequential or punitive) arising out of or relating to information posted on or referenced in the IDSI Site or the user's access to, use of, or inability to use the IDSI Site.
All materials posted on the IDSI Site are current as of the date posted. IDSI expressly disclaims any duty to update such information.
This web site contains forward-looking statements relating to future events, and actual events may differ materially. In evaluating such statements, IDSI Site users should specifically consider the risk factors identified in the Investor Relations section of this site and in IDSI's most recent annual or quarterly report filed with the Securities and Exchange Commission. As with all material posted on this web site, IDSI expressly disclaims any obligation to update such statements.
Any communication or information transmitted to IDSI via the IDSI Site is not confidential, and the sender agrees that IDSI may use such communication or material for any purpose whatsoever, including reproduction, publication and posting.
It is the policy of IDSI to enforce its intellectual property rights to the fullest extent permitted under law. All product names, regardless of whether or not they appear in large print or with the trademark symbol, are trademarks of IDSI, its affiliates, licensors or collaborators, unless otherwise noted. The entire content of the IDSI Site, including any images or text, is copyrighted and may not be distributed, downloaded, modified, reused, reposted or otherwise used except as provided herein without the express written permission of IDSI. The use or misuse of these trademarks, copyrights, or other materials, except as permitted herein, is expressly prohibited and may be in violation of copyright law, trademark law, communications regulations and statutes, and other laws, statutes and/or regulations.
Your access and use of the IDSI Site and its content are governed by and shall be construed in accordance with the laws of the State of Florida.
CTLM® – Laser Breast
Imaging Without Compression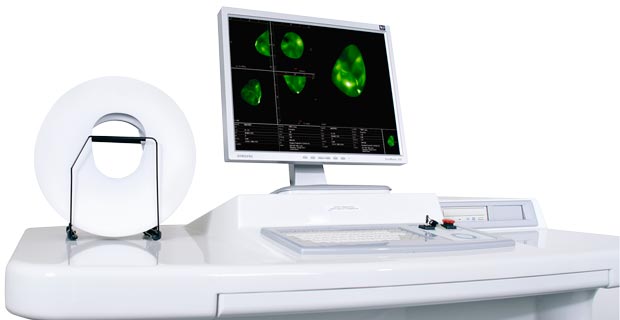 IDIS Video
Imaging Diagnostic Systems, Inc.